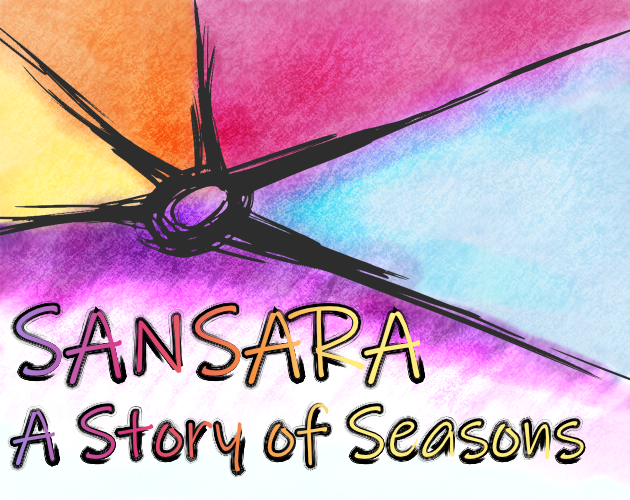 Sansara: A Story of Seasons
A downloadable soundtrack
Sansara is a lively town, known for its arcane university and strong sense of community. A Story of Seasons is a series of vignettes, each following a different character in each of the 5 seasons of thier world, as a tradgedy unfolds.

Summer
A new family of merchants enter the town for the first time, looking to settle away overcrowded cities, in a place where you can know your neighbours. The sun beams down, as their children lean over the wagon taking in the sights and sounds of their new home.
Autumn
The ancient Clock Master is in charge of the temple clocks, but one crisp autumn morning he awakes to find the mechanisms misbehaving. Something is interfering with his beloved mechanism but he cannot figure out what is causing it.
Winter
The arcanists from the University come to investigate the series of unusual sightings across the town. Too late they realise the cause - wild spirits are pouring into the physical world through a small tear in reality. The spirits are not malicious, but their innate mischeivous ways could cause untold damage to the town.
Void
The season of void is when the curtain between worlds is at its thinnest. The spirits continue to pour through, leaving a trail of suffering behind them. A team of clerics put their lives on the line to seal the rift and hold back the tide of spirits. The work is unrelenting and dangerous, but they know what's at stake.
Spring
The rift between worlds has been sealed. Large parts of the town lie in ruins, and mourners line the fresh graves at the cemetery. The town's Matriarch wonders the streets, her heart torn by the losses they have all suffered. Yet, the first flowers of spring are beginning to break through the earth, and the first warm days of the year have bought the children outside, laughing and playing. There is still hope for better days to come.

Download
Click download now to get access to the following files:
Danny Hoare - A story of seasons.zip
117 MB